The Airtime Transfer module is typically disabled by default. If you don't already have the Airtime tab in your Telerivet project, go to your Dashboard, click "Edit Settings", and enable the Airtime Transfers module: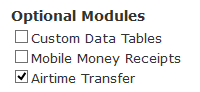 Configuring Approval Rules
For your protection as well as ours, each Telerivet account has a maximum daily limit for the amount of airtime it can send before needing approval from Telerivet. Initially, this limit is set to zero, so first you'll want to contact
support@telerivet.com
and tell us how you're planning to use the airtime transfer feature, so we can set an appropriate daily limit. Telerivet staff may also ask for additional identity verification as necessary.
Optionally, you can require a project administrator's approval for airtime transfers over a certain daily limit (different from the daily limit that requires Telerivet's approval). For example, if you have an automated service to allow airtime transfers, or if you have other staff members that may send airtime, you can use this limit to require administrator "sign-off" before airtime transfers, and protect yourself from spending money on airtime.
To set up a limit to require a project administrator's approval, go to the Airtime tab, click Edit Settings, then enter a daily limit in the Approval Rules section:

We highly recommend configuring Approval Rules, because there is no way to "undo" an airtime transfer or get a refund from Telerivet for airtime transfers.
Account Security
Since the ability to send airtime transfers makes it more valuable for someone else to gain access to your Telerivet account (to use your money to send themselves airtime), we recommend taking additional steps to keep your account secure:  
Set a secure password that is not shared with other services
Enable two-factor authentication for your Telerivet account, or only allow logins from whitelisted IP addresses (Learn more)
These settings can be configured on your
Account Security
page.