The Airtime page is the central place for managing your airtime transactions in Telerivet. On the Airtime page, you can:
view past airtime transactions
filter transactions by status (queued, pending approval, successful, failed, or cancelled), name, phone number, value, operator, date, or ID
approve or cancel transactions that are pending approval by a project administrator
retry failed transactions
export airtime transactions to CSV
initiate a new airtime transaction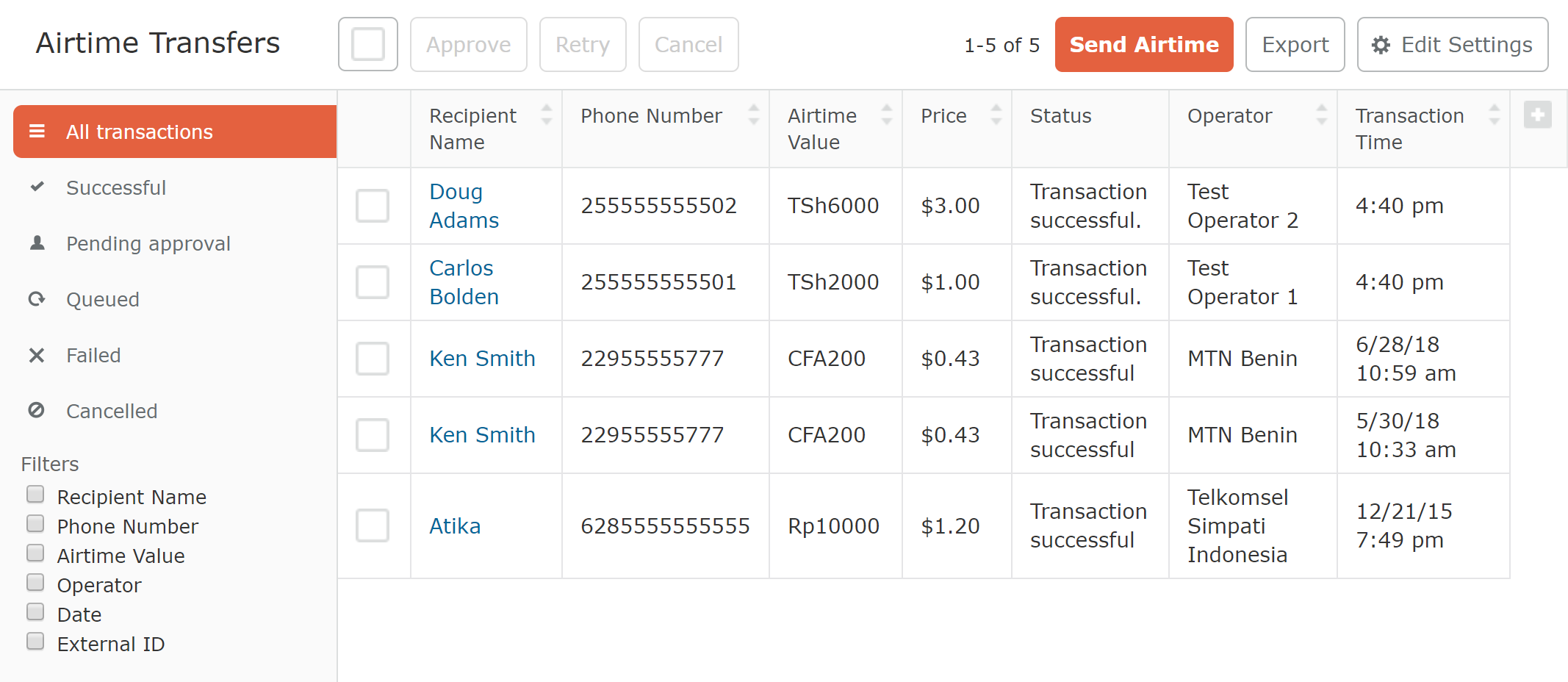 Approving or Cancelling Transactions
If a transaction exceeds your projects' daily limit for sending airtime, a project administrator can choose whether to approve or cancel it. On the Airtime page, select one or more pending transactions using the checkbox at left, then click Approve or Cancel.

Note that if the airtime exceeds the daily limit that you have arranged with Telerivet, then even your project administrator will be unable to approve airtime transaction; only Telerivet staff can approve these transactions. Although this approval process may sometimes add delays for processing airtime transactions, it helps protect you from spending money on airtime in case someone else steals your password or otherwise gains access to your Telerivet account.
Retrying Failed Transactions
Occasionally, Telerivet may encounter errors when attempting to send airtime; for example, if the mobile network's airtime system is temporarily down, or if the recipient phone number is unable to receive prepaid airtime. Some of these errors may be temporary, while other errors may be permanent.

On the Airtime page, select one or more failed transactions using the checkbox at left, then click Retry. Depending on whether the error was temporary and whether it has been resolved already, the transaction may be completed, or it may return to the failed state again.