Occasionally, you might encounter problems sending messages -- for example, messages might fail to send if your route doesn't have credit to send messages, or the mobile network might just not deliver them. When this happens, Telerivet makes it easy to resend or cancel these messages.
It is most common to resend messages with the
Failed
status, for example if the message failed to send originally, likely due to a problem with your route which you have now resolved.
It is most common to cancel messages with the
Queued
or
Retrying
status, for example if you realized after sending the messages that the recipients or content of your message were incorrect. (Note that it is not possible to cancel a message after your route has sent it, even if it hasn't been delivered yet.)
On the Messages page, find the messages you want to resend or cancel by selecting a 
Status
filter as shown in the screenshot below (and add any other relevant filters such as
Date
 or
Type
). Then select the messages you want to resend or cancel using the checkbox next to each message, or the "select all" checkbox at the top of the page: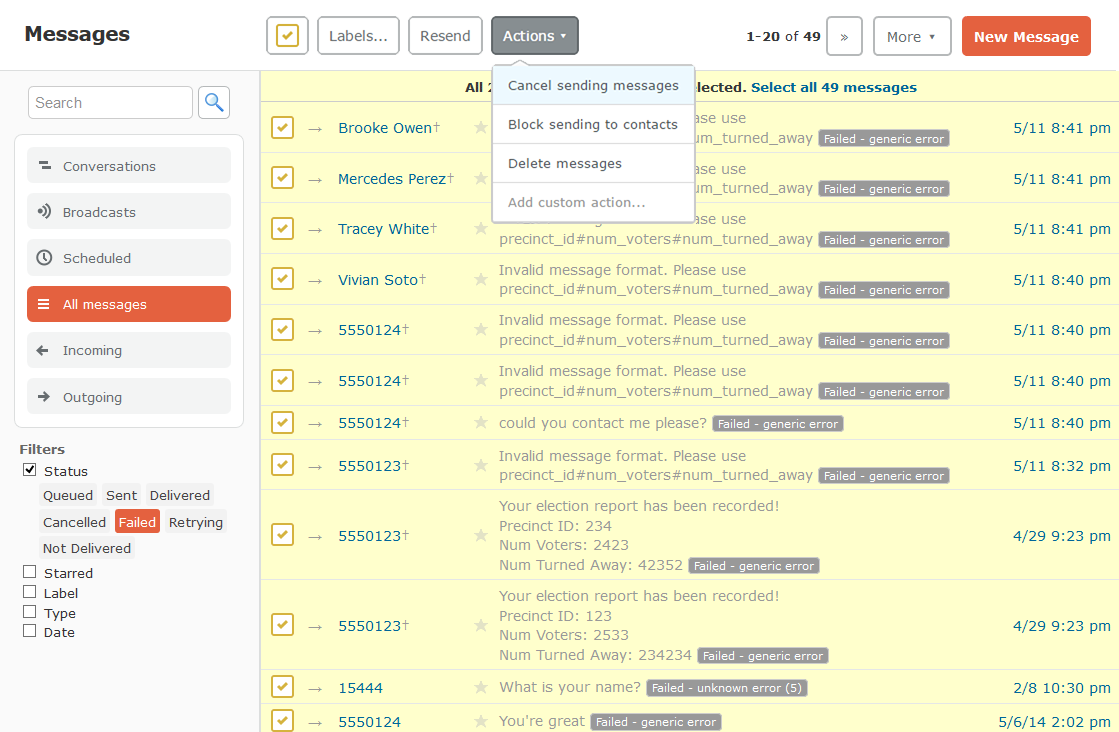 To select all messages matching the current filter even if there is more than one page of results, click
Select all XXX messages
.
Then, click 
Resend
or
Actions > Cancel
sending messages
.
If your project has multiple routes, the Resend button will let you choose which route to resend the message from. (If you are using custom routes, selecting "same route" will resend the message via the same custom route, which may send the message via a different basic route.) If there is a problem with one of your routes, this lets you easily reroute failed messages through a different route.
Cancelling and Resending Messages via API
For developers, Telerivet's REST API also supports
cancelling and resending messages
. The API also allows you to resend messages via a different route than was originally used.
Learn More