You can give multiple user accounts access to your project/organization in Telerivet, and configure different permissions for each user.
From your
Account
page, click the
User Accounts
tab, then click the
Add User Account
button.
User permissions in Telerivet can be granted within either an organization or a project. Project permissions are inherited from the organization, so adding permissions on the organization will automatically grant permissions on all projects within that organization.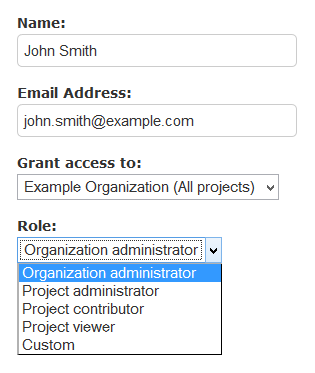 You can assign each user one of the roles listed above, or you can choose Custom to select exactly which permissions the user should have.
The roles automatically grant the following permissions: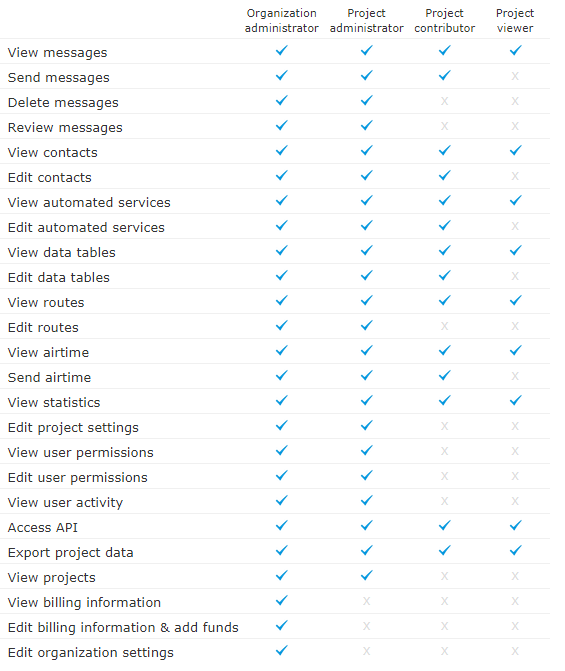 Users with the organization administrator or project administrator role can grant access to other users within that organization or project, as well as change settings for that project.
When you give access to a new user, Telerivet will send them an email that gives them a link to set their password (if they don't already have a Telerivet account).
If you give multiple users to the same Telerivet project, each user will be able to log in and see the same messages, contacts, and routes. If you want users to have separate messages, projects, and routes, then you can create different projects for each user.  
Updating/Revoking Permissions
To update or revoke a user's permissions for your organization or project, click the user's name on the
User Accounts
page.